Let me begin by saying I'm new to the world of Childhood Apraxia of Speech. I've only worked with a few students who have been officially diagnosed with CAS and a handful more who exhibited symptoms similar to those described by ASHA and who responded well to the six steps relevant to treating CAS outlined in Christina Gildersleeve-Neumann's ASHA Leader article from 2007. I am very much learning as I go with this one.
What I do know is that CAS is difficult to treat. It's labor intensive and time consuming. In my opinion, CAS is more stressful to treat than any other diagnosis under the SLP's broad umbrella of services. Luckily, we have a lot of colleagues out there who have broken down the proverbial doors. I would encourage you to check out Testy Yet Trying where Amy Ellsworth, a fellow SLP and mother, chronicles her journey with CAS. She also sells treatment card sets and worksheets. I've learned a lot from her blog. (I've listed some links for more information, resources and materials at the bottom of this posting.)
My biggest challenge with CAS treatment has come in the form of finding and funding appropriate materials for my students. There are many great products out there, but they are very expensive and often they do not meet the exact need of my students at the time I need to treat them. Some may be too advanced or contain words that aren't useful. So, like we do, I began to create some CAS materials of my own.
We know that students with CAS struggle in their attempts to repeat syllables and have inconsistent errors with consonant and vowel sounds. We also know that many of them tend to have trouble with prosody. We also know that kids love to talk about animals and vehicles, and this is where I got my inspiration for Sound Books.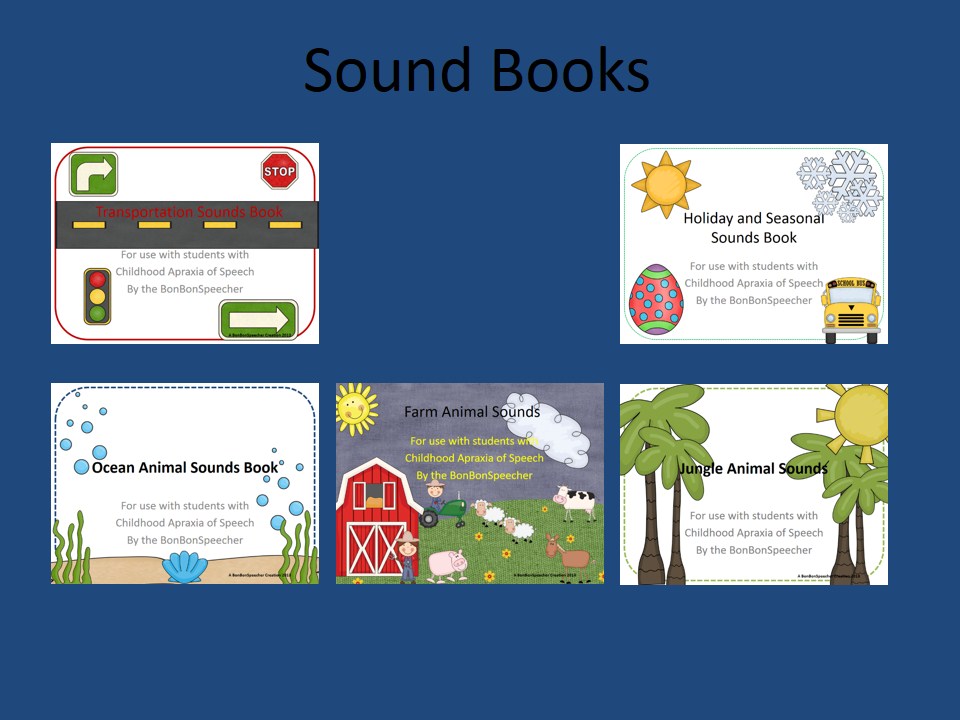 These books are designed for you to be able to edit the text to suit your students' capabilities. If your student isn't able to produce "Moo!" for the cow noise, but is able to produce "MMM!" then edit the text to reflect his level of production and work toward a higher level.
The expressions given are suggestions only. Please feel free to add more text, take away words entirely, change the sounds to fit your colloquial needs (perhaps the dogs in your part of the world don't say "Woof!" for example) or change the length/complexity of the utterances.

You can use the file in a number of ways to target a variety of treatment goals.
Target vocabulary

Print as cards and match animals to sounds or sounds to animals

Have

articulation

students give the animal a name with their speech sounds and then tell a story about them

Add prosody and intonation aspects to the sounds on the cards for students with CAS
These products are available as individual files below or you can purchase the bundle at TpT and TN.
More Resources and Information:
TestyYetTrying
MommySpeechTherapy
SpeechRoomNews – Apraxia Search
Linguisystems – Apraxia Materials
SuperDuper
Kaufman Speech Praxis Materials
Gildersleeve-Neumann, C. (2007, November 06). Treatment for Childhood Apraxia of Speech : A Description of Integral Stimulation and Motor Learning. The ASHA Leader.