It's that time again!
And Teachers Pay Teachers is making it even more exciting by offering a site wide sale!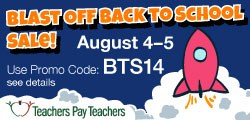 I'm joining up with Jenna over at Speech Room News to tell you all what's in my cart for the Blast Off Back to School Sale at TPT.
I'll be picking up a copy of these lovelies listed below. Click on the images so you can add one to your cart, too!
Here are some sweet speechie things you might like to add from
The BonBonSpeecher Store.
These Read-Along Books are just like the camping themed ones I created. The first level is great for vocabulary learning and the second level contains comprehension questions for early learners.
International Talk like a Pirate Day will be September 19th. This beauty has everything you need for targeting phonological awAReness skills. (Get it? AR? Got it? Good. Moving on.)
I'm a big fan of what I call "Reinforcement Games" and more importantly, my students love them, too.
These are simple games with simple rules that can be used to make learning a new skill or reviewing a learned skill so much fun! Most of them have multiple ways of playing to make them adaptable to multiple grade and skill levels. Just add your own word list or language concept and let the kids have a round of the game after each talking turn. I've also saved the game to let them play a quick round or two at the end of a drill session.
This bundle is a great money saver, but each game is available individually.
Fever Frenzy
Backyard Burger Bash
SUSHI
Witch's Brew
Galaxy Bundle – this one was a teacher request!

So that's the end of this linky posting. I've already added a few things to my cart after reading your lists! Good think it's all on SALE!!